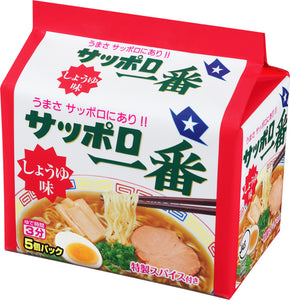 Sapporo Ichiban instant ramen by Sanyo foods are a staple and must have in Japanese households.
This shoyu ramen is one of the most popular and longest selling instant ramen in Japan. It is full of great chicken flavor and an umami rich shoyu soy sauce seasoning, highlighted with garlic and ginger aroma. The added spice pack gives an extra kick to this already great bowl of ramen.
This product includes 6 packs, which include 5 ramen packs each, a total of 30 servings.