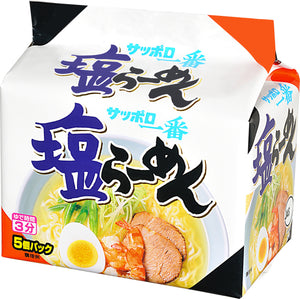 Sapporo Ichiban instant ramen by Sanyo foods are a staple and must have in Japanese households.
This shio ramen is one of the most popular instant ramen in Japan. The umami of chicken, pork and vegetables, the rich salt soup with spices, and the chewy noodles, it all works together to create an incredible balance. The flavor is further enhanced by sprinkling the roasted sesame seeds on top of your bowl, which are also included in the ramen packs.

This product includes 6 packs, which include 5 ramen packs each, a total of 30 servings.