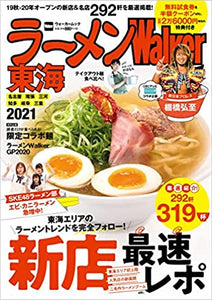 The 2021 edition of Ramen Walker Tokai, showcasing the best shops and the best newcomers of the Tokai region around Nagoya. Beyond that, many more shops are presented within special features. In total, 260 bowls of ramen are presented in this year's edition.
This is the ultimate ramen guide for every ramen lover visiting Nagoya, Hamamatsu, Shizuoka, Gifu and the surrounding area. 
Due to the age of the edition, you might receive a second hand magazine in good condition.
The item will be sent to you via air shipment or together with the rest of your order.