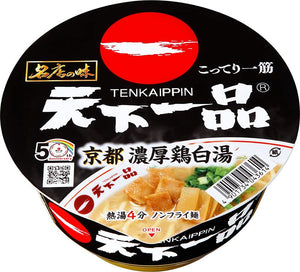 Tenkaippin is one of the most popular ramen chains in Japan, originally from Kyoto, they are now famous for their tori paitan ramen. Tori paitan is a very creamy and rich style of chicken ramen which equals the creaminess of tonkotsu ramen. So if you are searching for a pork-free alternative to tonkotsu ramen, then this bowls is absolutely for you!
Tenkaippin is a must visit when you are in Japan and now you can get your hands on Kyoto's signature creamy chicken ramen bowl in instant form for your home!
This package comes with 12 bowls/servings.
You can get a first impression of the bowl from the video below: