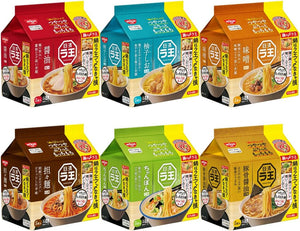 Nissin RAOH is the most popular brand of premium instant ramen in Japan. Compared to regular instant noodles, Nissin RAOH instant ramen offer a much deeper and more complex flavor. Additionally the thick noodles are non-fried for a much better slurping experience and a heavy cut in calories. All classic Nissin RAOH instant noodles come with non-fried noodles and a liquid soup package. Preparation of the noodles is done with a specified amount of boiling water, then add the noodles for the specified time. Both values vary between the different Nissin RAOH types. After the time is over, the noodles and water have to be combined with the soup package, either directly in the pot or in a ramen bowl.
Nissin RAOH variety set enables you to try all of the flavors that Nissin RAOH has to offer. This includes the following flavors:
Shoyu
Yuzu Shio
Miso
Tantanmen
Chanpon
Tonkotsu Shoyu
This set comes with 6 packs of ramen, which has 5 servings each. Therefore, you will receive a total of 30 servings of instant ramen.